When The Lights Went Out…
In a very important play-off semi-final second leg between Football League Two outfits Accrington Stanley and AFC Wimbledon – with pulses and desire rising and rising – what happens?? Go on have a guess?
Well would you believe, with the game finely poised heading into the final few minutes of extra time – the Dons leading their opponents by a 3-2 aggregate score – some of the floodlights go out!
Bulbs in two of the three floodlights went out and referee Eddie Ilderton had to bring about a 10-minute stoppage. AFC Wimbledon manager Neal Ardley spoke to the officials during the interval and said his players were happy to finish the game in reduced lighting.
So, after a brief stoppage and with the problem eventually fixed, the game continued and AFC Wimbledon saw the contest out with relative ease. Now, things could have been a lot worse and I know you are now thinking – How could this happen? Or even, how can you prevent this?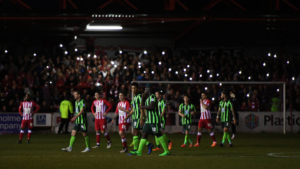 Well the first – and in my eyes – quite obvious solution would be to install LED floodlights. LEDs are extremely energy efficient and consume up to 90% less power than incandescent bulbs.
This clearly shows that LEDs use only a fraction of the energy of an incandescent light bulb – and with this there is a dramatic decrease in power costs. Also, money and energy is saved in maintenance and replacement costs due to the long LED lifespan.
When I looked into other sporting venues with LED lighting I found an almighty amount. Some good examples being Stamford Bridge, home of Chelsea FC, Twickenham Stadium, which is a national rugby ground, and the very well-known Wembley Stadium.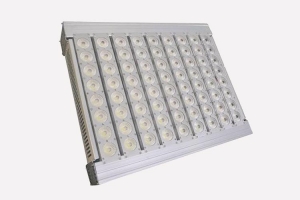 So, when you think that our superior LED floodlights are built with the highest quality you know that you will be getting an extremely good product. The innovative lightings are equipped with anti-glare and can be used for all kinds of buildings, including airports and military grounds.
Another key example from our range is the Delta 1080W LED floodlight. A 1000 watt LED white floodlight that is suitable to be used not only at stadiums but gas & power stations, bridges and airfields. It is a very innovative and freshly improved LED lighting product. It offers a 10, 25, 40, 60, 90 degree premium precise optical lens angle system and anti-glare, therefore suitable for any occasion.
When you read a story like this and then see the clear advantages of light-emitting diode lighting, would you honestly want any other product?