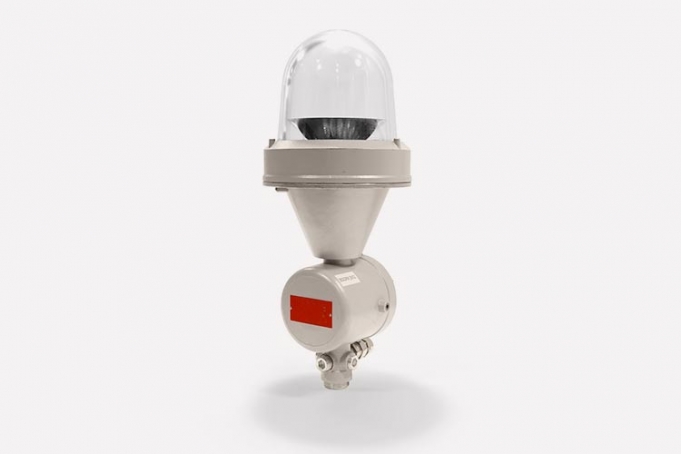 WL-SMI-EXIIC | Aircraft Warning Lights
Explosion Proof Aircraft Warning Lights
An LED explosion proof aircraft warning light designed for the night time marking of power plants, petrochemical masts, chimneys, oil & gas derricks and flare and offshore infrastructures.
Enquire about this product »
The WL-SMI-EXIIC medium intensity explosion proof light is designed to light areas made hazardous by abnormal conditions that have resulted in the presence of highly corrosive elements, combustible dusts, and flammable gas / vapours.  The enclosure is made of die casting aluminium with a powder coated finish. It is also light weight, waterproof, shockproof and corrosion resistant. Its self-contained wiring compartment makes the product ease of mount. Its light source consists of external long life LEDs, to ensure maximum life of the product with an output of 2000 candelas.  Certified to ICAO Annex 14, FAA & Atex standard.

different input voltages are available: 24Vdc, 48 Vdc 110Vac
available as a double unit
stainless steel radiation shield
optional integrated photoelectric switch 20-3000 Lux (adj.)
Download the data sheet for this product. Data sheets include detailed specifications of the products including size information, power source and installation instructions. If you require more information than is available on the data sheet then please contact our sales team.
Data sheets are available as a PDF document, you will need Adobe Acrobat to view the file.

Download data sheet for this product »