Services » Regulations, Guidelines & Consultation

Regulations, Guidelines & Consultation
Delta Obstruction Lighting are fully conversant and can
work in line with all major international regulations
, including
ICAO
,
FAA
and
CAA
. Over the past 3 decades, we have developed strong links with the CAA in London.
We undertake regular CPD (Continuing Professional Development) with regards to all prominent guidelines and ensure that the most accurate advice and applicable systems are specified to our clients.
Delta is also well-versed in working with local country aviation authorities if there is a requirement to abide by local regulations as well as international requirements.

Our lights are featured on some buildings you may know…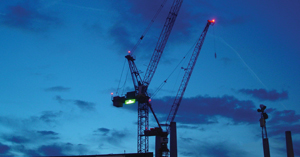 Need regulations, guidelines or even a consultation?
Delta are experts in obstruction lighting. Contact us for professional advice.
Get in touch »

Do I need aircraft warning lights?
Any structure in a flight path or even a structure which in height is 150mtr or higher, requires visual marking with aircraft warning lights.
What type of aircraft warning lights do I need?
Structures with a height less than 45mtr require low intensity lights
Structures with a height of 45mtr or higher require medium intensity lights.
Structures with a height greater than 150mtr require high intensity lights – recommended by the ICAO Annex 14.