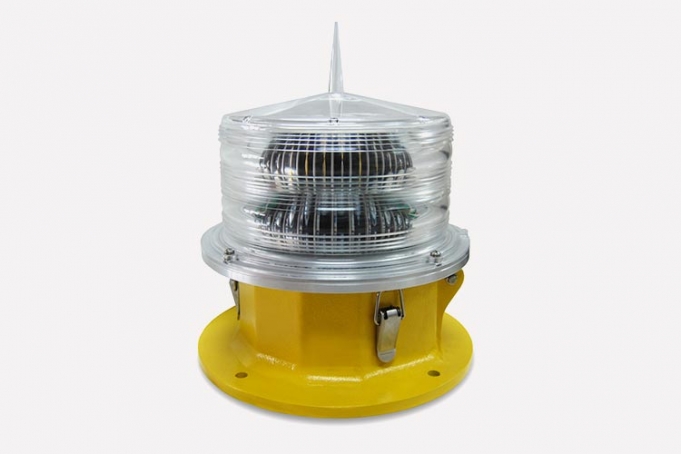 WL-20K | Aircraft Warning Lights
Medium Intensity Aircraft Warning Lights
A medium intensity aircraft warning light for daytime and nighttime marking of towers (telecom, GSM), smokestacks, buildings and any other potentially hazardous obstructions.
Enquire about this product »
The WL-20K medium intensity obstruction light is for daytime and night time marking of towers (telecom, GSM), smokestacks, buildings and any other potentially hazardous obstructions to air traffic with a flashing white safety light. It is compliant with ICAO standards.
The enclosure is made of die casting aluminum with a powder coated finish. It is light weight, waterproof, shockproof and corrosion resistant and the self-contained wiring compartment gives the product ease of mount. The light source consists of external long life LEDs, to ensure maximum life of the product.
The most important feature of the WL-20K is that it works as a dual light. At day time the LED arrays are working and emit a 20,000cd light intensity and at night time, using the integrated change-over relay, the LED array will work to emit a light output intensity of 2,000cd.

Modular design meeting optics standard, compact size and high efficiency
Based on LED technology
Extremely reliable – major maintenance cost saving
Resistant to shock and vibrations
Lamp housing – polycarbonate, with good anti-impact strength, thermal stability and high transmittance
Self-contained wiring compartment – eliminates additional boxes
Base material–Die casting aluminium LM6 alloy
Reflector – ABS
Combustibility rating:UL94-V0
IP protection:IP65
Operating temperature: -30°C – +60°C, can withstand the most severe environments
Flashing LED type
Typical LED lifetime: ≥100, 000 hrs
GPS synchronization between 2 or more Delta lights (please ask Delta sales/technical for further information)
All LED's are connected in parallel, which are powered by low voltage, constant current; when and if one fails it will not affect the other LED's.
Download the data sheet for this product. Data sheets include detailed specifications of the products including size information, power source and installation instructions. If you require more information than is available on the data sheet then please contact our sales team.
Data sheets are available as a PDF document, you will need Adobe Acrobat to view the file.

Download data sheet for this product »