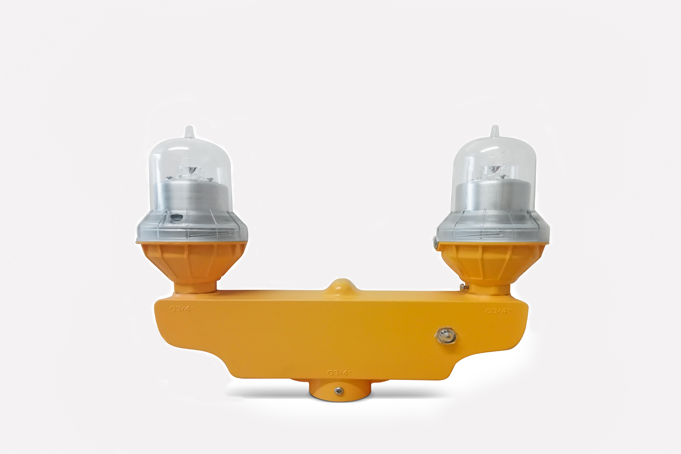 WLTwin77 | Aircraft Warning Lights
Twin Aircraft Warning Lights
The ICAO compliant type B WLTwin77 Dual aircraft warning light is suitable for marking of high rise structures.
Enquire about this product »
The ICAO compliant type B WLTwin77 Dual aviation obstruction light is suitable for marking of high rise structures. These structures can be Steel Towers (such as Telecoms and GSM), Smokestacks, Buildings and any other potentially hazardous obstructions to air traffic with a steady burning red safety light.

Based on LED technology
Aviation red type
Built-in protective circuit, extremely Reliable — Major Maintenance Cost Saving
Excellent heat dissipation  No RF- radiations, EMC Compliant
Light fitting material – Die cast aluminum with yellow powder coated finish, preventing corrosion
Lamp housing – Resistant to Shock and Vibrations, good intensity and thermal stability and good finishing surface, UV stable
Mounting hardware – Threaded G3/4″ pole required, available from Delta sales.
Self-contained wiring compartment—eliminates additional junction boxes
Integrated change-over facility for Duty and Stand-by configuration
Sealed construction, providing waterproof and dustproof, can withstand the most severe environments
Earth grounding provisions provided
Download the data sheet for this product. Data sheets include detailed specifications of the products including size information, power source and installation instructions. If you require more information than is available on the data sheet then please contact our sales team.
Data sheets are available as a PDF document. You will need Adobe Acrobat to view the file.

Download data sheet for this product »