Services » Light Design & Manufacture

Customer Light Design & Manufacture
The majority of the aircraft warning light systems that we design and supply are compliant under the applicable
regulations.
 However, there are occasions where a client or consultant may require the lighting system to be
bespoke
 to
suit their specific requirements
. This would apply in situations where the obstacle to be marked is deemed as 'unusual'.
In this case, as well as complying with applicable regulations, it is important to ensure that safe installation and maintenance access are designed into the system. Our engineers are experienced in working together with our clients to design a system that meets a plurality of requirements.
Delta is a company that has completed an array of bespoke contracts. These contracts have included instances such as designing a light that does not exceed 200mm diameter, so that it could be raised through a spire, and redesigning solar boards on solar lights so that the light unit could withstand excessive wind loads.
A frequent request that we receive is to alter the base colour of the light unit so that they blend into existing buildings. This is particularly relevant on listed and historical buildings.
Our lights are featured on some buildings you may know…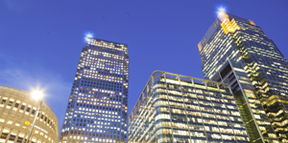 Haven't found the right light for you?
Try our quick questionnaire to establish which lights are required for your structure.
Start questionnaire »